Question:
What is Cell Cytotoxicity and How to Measure It?
The Protein Man Says:
In a nutshell, cell cytotoxicity refers to the ability of certain chemicals or mediator cells to destroy living cells. By using a cytotoxic compound, healthy living cells can either be induced to undergo necrosis (accidental cell death) or apoptosis (programmed cell death).
Given this information, the ability to accurately measure cytotoxicity can prove to be a very valuable tool in identifying compounds that might pose certain health risks in humans. This can be of vital importance during the research phase of developing new pharmaceutical products to ensure the safety of the end-users.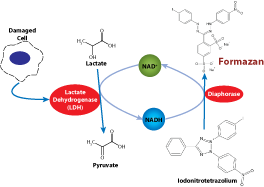 Measuring cell cytotoxicity also proves to be quite indispensable in the process of developing therapeutic anti-cancer drugs. By determining the cytotoxicity levels of cancer cells, anti-cancer medications can hinder the proliferation of target cells either by messing with their genetic material or by blocking the nutrients that the cells needs to survive.
Additionally, understanding the mechanisms involved in cytotoxicity can likewise give researchers a more in-depth knowledge on the biological processes (both normal and abnormal) governing cell growth, cell proliferation and death.
Measuring Cell Cytotoxicity
While it can be measured in a number of different ways, assessing cell viability through the use of vital dyes (formazan dyes), protease biomarkers or by measuring ATP content are some of the most commonly used methods in determining cytotoxicity. The formazan dyes are chromogenic products formed by the reduction of tetrazolium salts by dehydrogenases, such as lactate dehydrogenase (LDH) and reductases that are released at cell death. Common tetrazolium salts include INT, MTT, MTS and XTT. Cell cytotoxicity can likewise be monitored by using the SRB and WST-1 assays which are both considered ideal for high throughput screening.
Most cytotoxicity assays work on the premise that dying cells have highly compromised cellular membranes which allow the release of cytoplasmic components or the penetration of fluorescent dyes within the cell structure. To eliminate the problem of underestimating cytotoxic activity due to the fact that loss of membrane integrity usually occurs quite late in the process, alternative non-radioactive bioassays have been developed to measure cytotoxicity for both proliferating and non-proliferating cell samples.