Question:
What is Protein Purification and What Techniques are Used During This Process?
The Protein Man Says:
Before a specific protein can be identified and its properties can be studied, the protein must usually be separated from a sample of plant or animal tissue or extracted from a complex mixture. Extraction and purification are vital components of almost any protein-specific research effort. But the methods used during these processes will depend on the nature of both the protein and the solution. Sometimes the specific protein is caught in a matrix of other protein molecules, and sometimes it's surrounded by non-protein biological elements. In either case, a small sample of the protein may be need for research and analytical purposes, or a large quantity of the purified protein may be necessary for industrial or commercial reasons.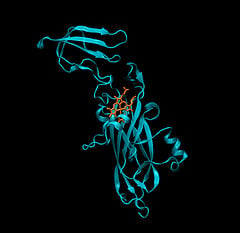 All of these factors—the initial state of the protein mixture, the required sample size, and the reason for the extraction-- contribute to decisions about extraction and protein purification techniques, which may include any of the following.
Protein Purification Methods
Due to the complex nature of the proteomic pool, the purification of a protein routinely involves more that one of the above techniques.
Image By: Nick960